We offer our customers numerous options on their choice of exposed concrete. They have the option of choosing the matrix and with its various shades of background colours, along with the size and type of our decorative gravels. With exposed concrete homeowners are able to have the aesthetic appeal of a decorative aggregate but also have the favourable high strength obtained with concrete.
The advantage of exposed concrete and exposed concrete floors is that it is maintenance free, issues of unwanted moss or weeds is not hampering the home owners, however similar maintenance to that of normal concrete is advised, so that one's pavement retains the admirable look.
The cost implications for the owners is that the pavement will be more expensive than traditional concrete yet less expensive than paving.
For details of available textures CLICK HERE
Below are some of the colours of exposed concrete currently available.
Nut Brown & Buff Exposed Concrete
Two colour types of exposed concrete are used in the below dwelling. York Buff dye mixed with Marigold Gravel (20mm) for the driveway and in the garden area a Nut Brown dye mixed with Pink Gravel.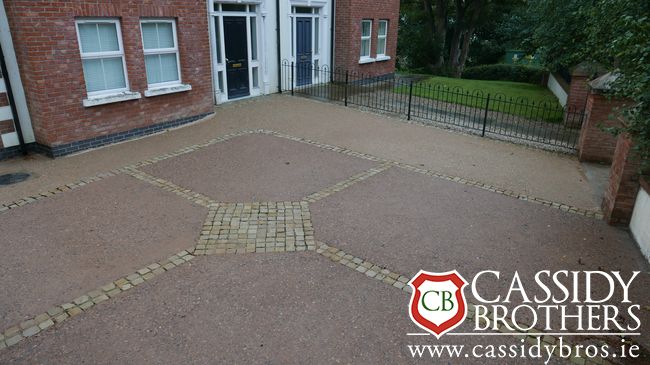 Exposed Concrete with Blue Gravel
Exposed Off White Concrete with Riverbed Gravel
Exposed Concrete Textures
Below are examples of the exposed concrete textures that are available.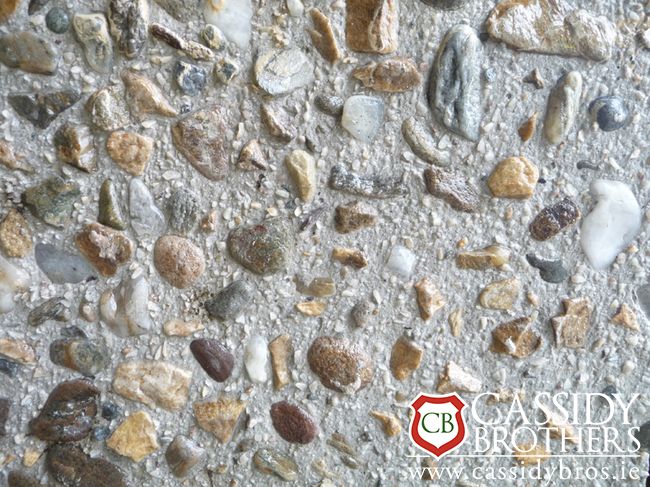 In our offices we have samples from which the customer can choose from.
We can advise the customer on possible ways for them to prepare the ground for the concrete, paying particular attention on unsightly control joints which can be camouflaged by simple paving.
We offer a package where we supply, lay expose and seal the concrete and would be available for a site visit on request. This is also available for homeowners looking to install exposed concrete floors.
Contact us today for a quote or for more information on exposed concrete
Call us on +353(0)749361777 for more information on exposed concrete or to book an appointment to visit our office.