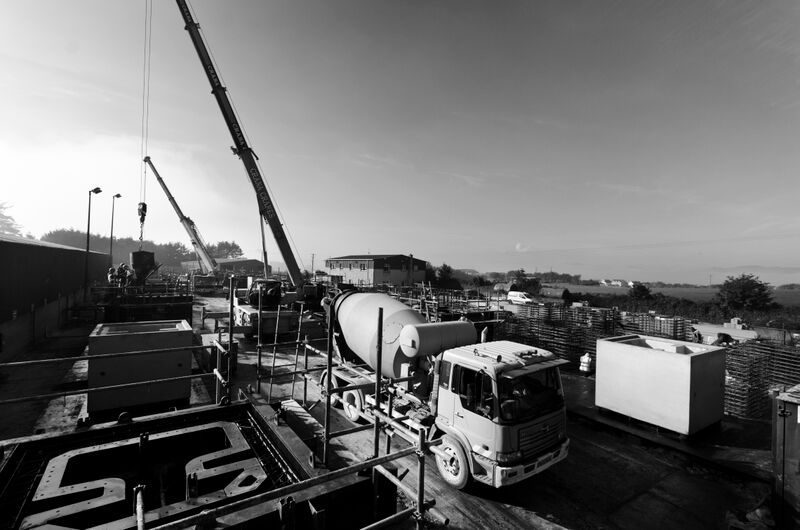 Cassidy Brothers are one of the leading concrete suppliers to the Donegal Region. From our bases in Buncrana, Letterkenny and Cranford we supply Ready Mix concrete to meet customer's specific requirements.
In Ireland, ready mixed concrete is manufactured to "ISEN 206-1: 2002 Concrete – Part 1: Specification, Performance, Production and Conformity" in fully computerized, automated batching plants, so that the end product is delivered to a high standard. When engineers build with concrete, they build with confidence. By varying the mix design, to include various additives, engineers can design-in an extensive range of physical properties to cater for almost any physical, structural or site requirement. Concrete is without doubt, the most flexible of all building material.
Concrete produced is pre-mixed in our Batching Plants using the highest standard sand, aggregate and cement. Once it's batched to the exact quantity and specification required, it is transported to site by a Ready Mix truck. This concrete, once batched, is ready to be poured on site. The bottle of the truck does not play any part in the concretes manufacturing process.
Our Batching Plants are fully computerised and automated, and with these, we maintain our high concrete standards by sourcing high quality aggregate which is crushed and produced in our own quarry.
Quality control is guaranteed through our on-site Quality Control lab which is ran by our qualified Technician. This ensures that all concrete is of the highest standard. With this we are adhering to good work practices such as the IS EN 206-1 Ready Mix Concrete.
OUR RANGE OF CONCRETE
Accelerated Concrete
Air-Entrained Concrete
Agricultural Concrete
Architectural Concrete
Coloured Concrete
Concrete Ballast Weights
Designed Concrete
Exposed Aggregate Concrete
Extruded Kerb/Barrier
Fair Faced Concrete
Fibre Reinforced Concrete (Steel, HPP etc)
Flowable Concrete
Floor Mix
Foamed Concrete (Flowable Fill)
Footpath Mix
Heavyweight Concrete
High-Performance Concrete
High-Strength Concrete
Low-Carbon Concrete (Containing GGBS)
Mass Pour Concrete
No Fine Concrete
Pattern Imprinted Concrete
Pump Mix
Retired Concrete
Semi-Dry
Skip Mix
Standardized Prescribed Concrete
Underwater Concrete
Vertical Slip form Concrete
Watertight/Waterproof Concrete